Egypt Tours with ORACUL – May and June 2019
Katie and I, working with our ORACUL co-founders, recently put together two tours to Egypt for the late spring of 2019 (a May tour initially, and then a June trip after the May tour filled quickly). Until recently, both tours were filled to capacity; however, due to some last-minute cancellations, a couple of spots have opened up on the June 2019 tour. If you are interested, please visit the tour's webpage. At the bottom there is a contact portal. Also, if traveling to Egypt or elsewhere interests you, please drop Katie and me a note (see my Contact page for how to do this) and let us know you would like to be on our mailing list. There are times, for various reasons, when Katie and I only announce trips privately.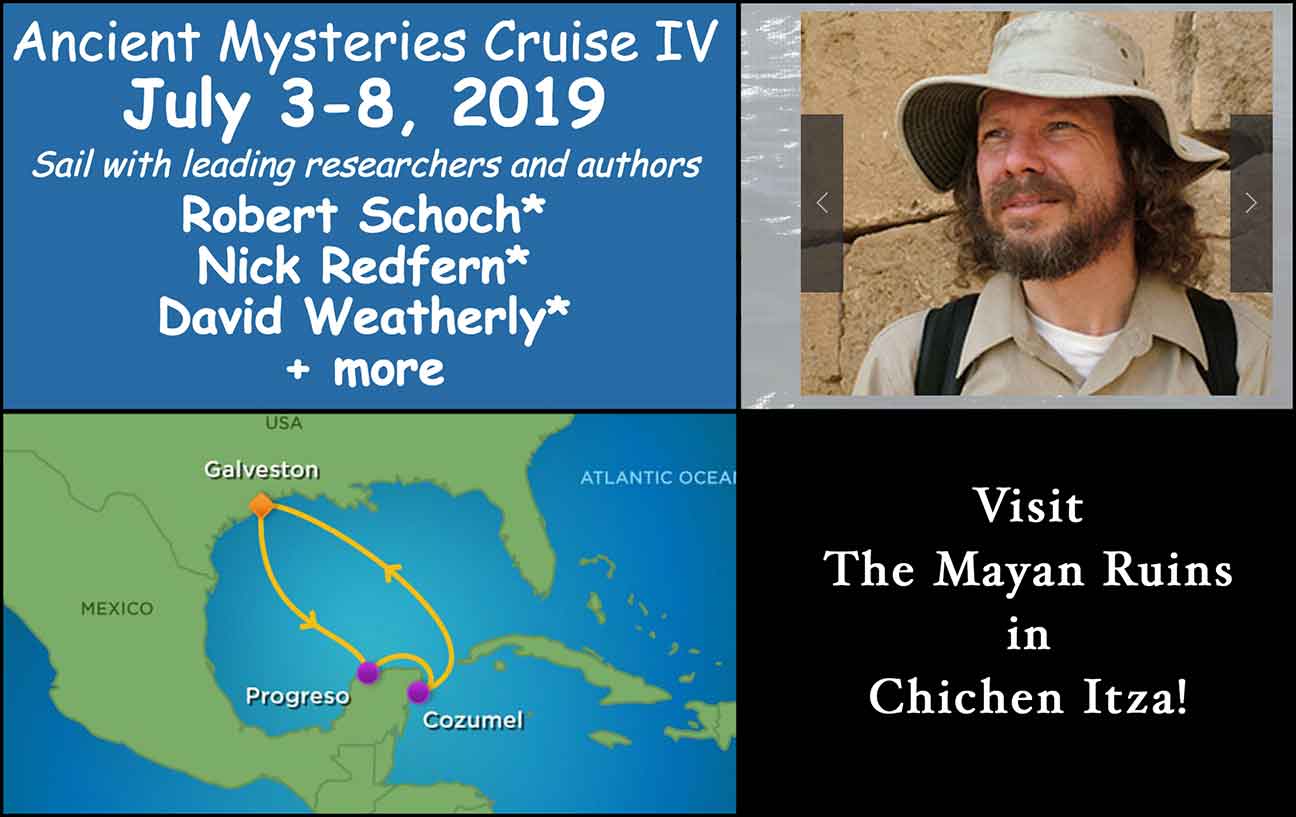 Cruise to Chichen Itza – July 2019
I have been invited to cruise to Mexico to see the ancient ruins at Chichen Itza -- and so I invite you to join Katie and me for the journey. While sailing, I will present my own research, as will other co-hosts, and we will have plenty of opportunity for conversation and on-board fun. I am not the organizer of this tour; just a participant. For more information please see the Holiday Maker Travel website.
Croatia Cruise – July 2019
This tour, initially planned for the summer of 2018, has been rescheduled for 20 – 27 July 2019, at which time I'll be sailing the Adriatic and discussing my research in detail aboard a beautiful luxury cruise ship. If all stays as planned, there will be space for only 30 guests, so I hope you can join me for some sun, fun, on-shore excursions, and in-depth lectures and discussions about the ancient mysteries. Here (via PDF) is the tentative list of sites that we will see during our cruise. Please see the Bridging Heaven and Earth website (they are the official organizers) for more. And please wait to receive word that this tour is confirmed before purchasing any airline tickets and/or making other arrangements.
---
Additional upcoming announcements will be posted (above) soon.
Below are a sampling of past events.
Ireland Tour
In June of 2018, Katie and I, along with our friend and tour organizer Andrea Mikana-Pinkham, hosted a week-long tour of the ancient megalithic sites of the Emerald Isle. Together we visited places that harken back to extreme antiquity. We took in the beautiful countryside, shared meals (organic and non-gmo) and conversations, as we journeyed across the island together. I gave two formal presentations about my overall research into the extreme antiquity of civilization, and Andrea gave two presentations on her work as well. Our thanks to so many who made this a wondrous adventure.
The Ancient Enigmas of Malta
In March of 2017 I was thrilled to lead a 7-day tour of the wondrous Mediterranean island nation of Malta. The trip was organized by Andrea Mikana-Pinkham and Sacred Sites Journeys. Malta is home to some of the most mysterious sites and structures of the ancient world, including megalithic "temples", the world famous and deeply problematic "cart ruts" preserved in solid stone, and more. It is my hope to conduct another tour to Malta again soon. Please let me know if this should interest you or a group of 20 or more of which you are a part.
Peru, Bolivia, and Easter Island Tour
In January of 2017, as in years past, I led a two-week tour to Peru and Bolivia, with a 3-day add-on to Nazca prior to the main trip and a 3-day add-on to Easter Island afterwards. Katie and I again teamed up with our friend and colleague, tour organizer Gregory Poplowski, for this wonderful adventure. For those who missed it, please let us know and perhaps we can organize another one.
Turkey Tour – 2012, 2013, and 2015
I've had the pleasure of leading (as guest speaker) a number of tours to Turkey with my friend and colleague, Grzegorz ("Gregory") Poplawski. His company, The Time of a New Era, takes care of all the logistics for the tours (he is the official organizer). I speak on site, give lectures during selected evenings, and explore the ancient wonders of Turkey together with our guests (there is always something new to learn!). If you and your group (of 20 or more) would like to arrange a tour like this especially for yourselves, please feel free to contact me.
Egypt Tours
Over the years I have led many tours to Egypt, and plan to do so again in the future (I am tentatively working on organizing one for possibly next year). As an example of one of my previous Egypt trips, for the very special December 2012 holidays - including the Winter Solstice, Christmas, and New Year's - our trip included visits to the Pyramids of Giza, the Great Sphinx, the Coptic church of the Holy Family, and a Nile cruise, with stops at Karnak, Luxor, the Temple of Queen Hatshepsut, the Temple of Edfu, Abu Simbel, and much more. We even visited the pyramid and labyrinth area of Hawara.
I lead Egypt tours quite regularly, with different organizers, so if you would like to join me on a trip, please let me know.